REUBEN GOBEZIE, M.D.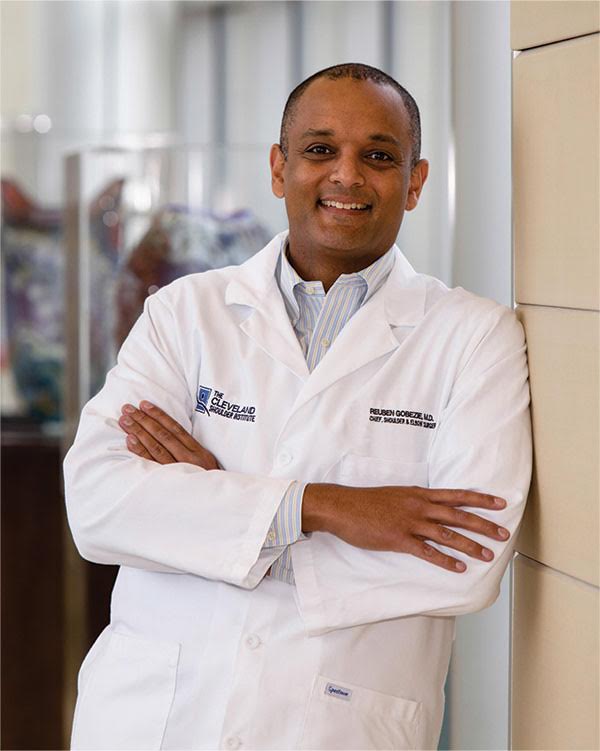 Founder/Director, Chief of Surgery, Cleveland Shoulder Institute
Founder/Director, GO Ortho, Regen Orthopedics

Orthopedic Surgeon, Reuben Gobezie, MD, is a nationally recognized leader in the care of shoulder and sports injuries. A graduate of Harvard Medical School, Dr. Gobezie was named one of the top 25 shoulder specialists in the US as ranked by leaders in the field. He was also voted one of America's top doctors by his patients. He is a six-time Patient's Choice Award winner, an honor bestowed on less than one percent of physicians nationally, and the result of patient ratings of their medical care. In 2015, he was recognized on the Top Doctors list nationally by Castle Connolly and locally as one of Cleveland Magazine's best doctors.
He has treated many athletes from colleges, universities and high schools throughout Ohio, and was formerly a team physician for the Cleveland Gladiators. Dr. Gobezie has also previously served as an NFL consulting physician for the Cleveland Browns and as head team physician for Gilmour Academy.
Dr. Gobezie is Board Certified by the American Board of Orthopaedic Surgery. He completed his undergraduate studies at The Johns Hopkins University prior to graduating from Harvard Medical School. His orthopedic residency was done at the Harvard Combined Orthopaedic Residency Program. Dr. Gobezie obtained subspecialty training in shoulder and elbow surgery by completing the Harvard Shoulder Fellowship.
Dr. Gobezie has made pioneering contributions to the areas of shoulder replacement surgery, cartilage transplantation and biceps surgery. He is able to offer his patients techniques and treatment paradigms that are at the forefront of shoulder and elbow surgery. His practice specializes in minimally invasive and innovative approaches to the treatment of arthritis, rotator cuff tears, instability and other more rare shoulder disorders.  Dr. Gobezie is actively involved in significant clinical research and employs the most current arthroscopic and open surgical techniques to manage shoulder and elbow disorders.
Dr. Gobezie's research has been recognized with numerous national awards including the prestigious Neer Award from American Shoulder & Elbow Surgeons, Zimmer/Orthopaedic Research and Educational Foundation Award, the Pfizer Innovative Scientific Centers for Orthopaedic and Pain Management Excellence Research Award, the Arthroscopy Association of North America's Research Grant and the Massachusetts General Hospital Physician Scientist Award.
He served as Co-Director of the Musculoskeletal Proteomics Research Group at Harvard and continues his studies in osteoarthritis and related musculoskeletal disorders through his laboratory at Case Medical Center. In addition, his clinical research has been presented at numerous national and international meetings and he is an invited lecturer both in Europe and many parts of the United States.
Dr. Gobezie is a member of the American Shoulder & Elbow Surgeons, the most prestigious subspecialty group in orthopedic surgery comprised of just over 200 of the top shoulder surgeons from around the world.
In 2014, Dr. Gobezie opened GO Ortho, an urgent care center for all orthopedic conditions. This practice allows patients to have quick access to an orthopedic specialist when they need it and at a lower cost than had they first gone to an emergency room. For more information, see www.godoctornow.com. That same year, Dr. Gobezie also founded Regen Orthopedics, which provides cutting edge treatments for chronic pain. This practice offers regenerative medicine procedures that utilize a patient's own adult stem cells to stop pain and speed healing for a wide range of painful conditions, including arthritis.  Learn more at www.regenorthopedics.com.